A traditional water heater will have a lifespan of about 10 to 15 years. If you have a property in Northern New Jersey that has a water heater that is more than 10 years old, you may be experiencing lower efficiencies (and higher energy bills!) caused by sand, hard water deposits, and other factors that come from aging. Even Flow, Inc installs many kinds of water heaters including electric, gas, oil, tankless, coils, boilers, and indirect fired water heaters. Our technicians are up-to-date on some of the latest technologies developed for water heaters and we are highly trained to handle any of your water heater needs, from simple repairs to complex series and parallel water heater installations. We can also help keep you safe from being scalded with controls at the water heater or even at your individual faucets.
Call our team at 201-290-9500 for an estimate for your water heater projects now. We serve most communities in Bergen and Passaic counties, but no matter where you live in New Jersey, give us a call and find out how we can help you today!
Water Heater Services We Offer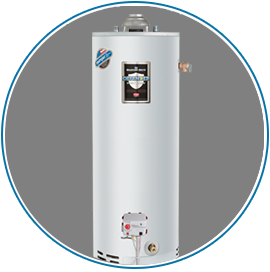 GAS TANK TYPE WATER HEATERS
Tank type water heaters come in many shapes and sizes and they can be either vented into a chimney or direct vented to the outdoors. Having no hot water is no fun and we are here to get your water heater back up and running or show you the many options that are available for a new one.
If your tank type water heater is 8 years or older you may benefit from upgrading to a higher efficiency water heater or even change the type of the water heater to a direct vent, tankless or a indirect fired water heater. We can help service your existing water heater and also guide you to understanding the benefits of changing to a new one. Some new water heaters may even qualify for a energy rebate by a third party.
We also have special water softeners that are great for minimizing that popcorn popping sound when you turn on a faucet. This may extend your water heaters life span and increase it's efficiency. Just give us a call and we can show you how.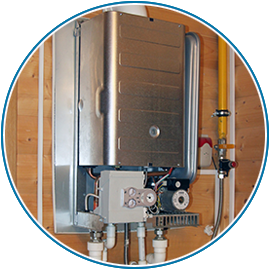 GAS TANKLESS WATER HEATERS
Tankless water heater are the talk of the town. It's a great concept of not having a tank and heating only the water that passes through it which ultimately reduces standby loss of a tank and saves money in several different ways. It can be a great benefit to your current home if installed correctly or if installed incorrectly it can be a danger to life and property.
Make sure to give us a call when considering a tankless water heater no matter what brand you are thinking about. We have dealt with the major manufactures and know their limitations and can help you plan for a replacement.
Tankless water heaters need to be maintained to ensure that they are working at full capacity and you are receiving the greatest efficiency that the unit can provide under the current installation. We can service most major manufacturers tankless water heaters and can help clean out the coil or do a complex combustion analysis on it.
Feel free to contact regarding your existing or new installation of a tankless water heater.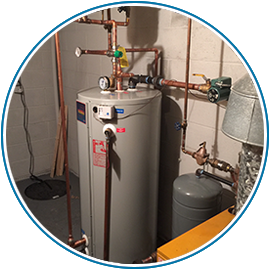 INDIRECT FIRED WATER HEATERS
These water heaters workhorses and both provide an incredible amount of hot water with little to no standby heat losses. This makes them an incredibly smart investment. The concept is using an existing hot water boiler to heat up your domestic portable water. There are several ways of setting it up off a hot water boiler and each situation is taken into account depending on many variables. In general the amount of hot water far surpasses that of a normal tank type water heater and the standby looses, the amount of heat that the water heater looses naturally, are incredibly low. Normal tank type water heaters have a much higher standby loss as the tank cools down durning it's off cycle by letting air flow through the flue and up the chimney.
There are different manufacturers and designs on the market and we have the information to hep you make that critical decision of which one to buy. If you currently own one and need service on it we can handle your needs too. We are specifically trained on the different installations and know it makes a difference on how it is installed. Many improper installations can lead to unexpected results, such as a lower than expected amount of hot water, interaction problems with the existing heating system, noise, boiler issues etc.. Just give us a call and we can show you how you can benefit from an indirect fired water heater installation.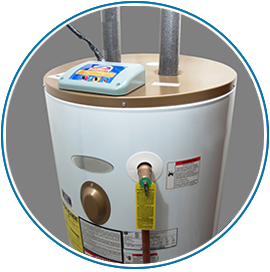 ELECTRIC WATER HEATERS
Electric water heaters seem to be more prone to early failure, possibly due to the waters natural reaction to be heater by an electric element. Many electric water heaters precipitate out more hardness in the form of minerals that can accumulate at the bottom of the water heater. These minerals can lead to water heater failure and a great inefficiency since these material too have to be heated at all times along with the water.
We have special water softeners that can minimize the amount of minerals are deposited in your water heater thus providing you with possibly a longer life expectancy and better performance over the lifespan of your water heater.
The new 2015 DOE energy efficiency standards have changed both gas tank type and electric water heaters. The electric water heaters over 55 gallon have significant changes and manufactures have redesigned their water heaters to meet to exceed the requirements. Hybrid water heaters are now the norm for the over 55 gallon type. They can have a heat pump built in and may far exceed the energy savings of the 2015 DOE standards implemented.
The under 55 gallon water heaters have had their standards changed but much of that is not nearly as dramatic as those over 55 gallons. Some manufactures were able to change anodes, insulation thickness, add insulation blankets and other measures to comply.
If you live in a condo, townhouse, co-op or your existing utility room is very restricted in size or shape you may need expert advise on your options available to you. We at Even Flow, Inc are your Bergen County experts and will gladly help you decide what is right for you and the costs that are involved.